Electronic pill dispenser DoseControl
Electronic Pill Dispenser DoseControl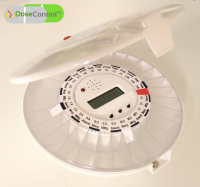 Do you regulary refill a plastic pill dispenser of your grandmother, grandfather, or relative who has memory problems, impaired vision, or simply has to take many medications or pills at once AND:

• Very often forget that the tablets have to be taken
• Can not remember exactly which tablets to take
• Forget that the tablets or medications have been taken before and take them for the second time or
• Take several doses at once


The electronic pill dispenser DoseControl is an effective solution for problems with memory, visual disturbances or when taking high amounts of medication.
The electronic pill dispenser DoseControl eliminates errors in dosage of medication or tablets and thus protects your loved ones from worsening of their health!
PROTECT YOUR LOVE ONES FROM OMITTING OR OVERDOSING THE IMPORTANT MEDICAMENTS!